Quantum-secure communication,

reimagined
The world's most cost-effective, easy-to-integrate, and secure QKD solution
QuantLR is already used by leading organizations to secure their communication.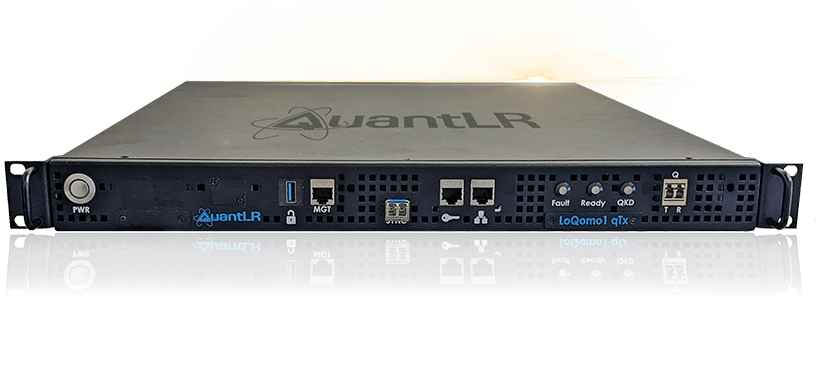 Built to secure networks at scale, the solution is developed to be cost-effective without compromising the highest level of security possible.
Emphasizing ease-of-use, QuantLR solutions seamlessly fit into existing communication environments, just like existing hardware such as a router or switch.
Quantum Key Distribution (QKD) is the only proven quantum-safe technology that can handle quantum-related threats today, and in the future.
Add Quantum Security to your systems today
QuantLR's solution is highly practical and ready for mass deployment. It's engineered to affordably secure networks at scale.
The company provides a range of solutions optimized for different network link characteristics with a focus on the mid-range metro and the PON / fiber-to-the-office (a.k.a. "last mile") links.
The solution is built for ease-of-use in existing communication environments.
Plug-and-play capabilities mean it's super easy to add and maintain the solution in a telco-first, fiber-optics environment. Communication technicians interact with our QKD systems just as they would with  any other standard communication device.
QuantLR's solution is the most secure way for organizations to protect their data now and in the future.
QuantLR's products are field-tested with the most demanding customers globally, and it has partnered with some of the world's best-known companies to validate its effectiveness.
Counting among its customers the likes of one of the world's leading global cloud providers, and the exacting Israel Defense Forces.
Not all QKD systems are created equal.
The actual security provided by a QKD system is not the theoretical, unconditional security gained from the laws of physics (as often claimed) – but rather the more limited security that can be achieved through hardware and engineering efforts.
Thanks to our work with some of the world's leading state defense organizations, the QuantLR system is the most secure solution available.
Telcos
Offer customers the highest level of communication security available with the easiest to integrate QKD systems.
Government & Defense
Unbreakable security even against the most advanced adversaries.
Data centers
Security for both operational integrity and for the protection of customers' sensitive information.
NIST and the NSA seem set on post-quantum cryptography (PQC) while the rest of the world chooses Quantum Key Distribution (QKD) for quantum security — Why?
Read More
Add Quantum Security to your systems today